People ask us almost weekly how they can get more reviews online. Our answer…use the same tactic when you want food at a restaurant…ask for it.
But to be effective you have to make it a part of your companies DNA to ask for reviews. Typically people don't leave a review without being prompted, unless they are upset and want to rant.

Benefits of Online Reviews
Having a positive rating can help lift your business in search results, especially on sites that allow visitors to sort businesses by positive ratings.
Only legitimate reviews are going to help your SEO, but it's not a bad thing to ask your customers to leave you honest reviews on sites like Yelp, Google My Business or even Angie's List.
But before you start asking for online reviews there are a few things you do need to do.
Set Up Local Listings
Before your clients can leave a review you much have a place for them to write a review.
From Google My Business to Yahoo Local, optimized local listing pages are a quick way to create an identity at the top of the search engines. Not only that, but these local listing pages link to your websites and improve your SEO and allow clients a place to leave a review.
If you have established profiles for your business, then ensure your information is correct across all of your profiles. If its wrong, fix those errors immediately.
Prioritize Your Review Sites
Every business has a primary, secondary and ancillary place for customers to leave reviews. Below are a few places you might consider primary for your business.
Popular review sites
Google My Business: A juggernaut considering its influence on Google search results.
Better Business Bureau: More serious prospects tend to use BBB to verify or discredit their purchase.
AngiesList: Typically popular for home service businesses and general contractors.
TripAdvisor: Great for local brick and mortar businesses and restaurants.
Yelp: One of the hardest places to get a a review and a major influencer on Bing ranking.
Other review sites
These sites are critical but its better to focus your efforts on the above mentioned sites.
Local.com
Funnls.com
SuperPages
Here.com
MapQuest
YP.com
Quick Review Links
Below is a quick tip on how to create a quick link to help customers find and review your business on Google.
1. Visit google.com
2. Type the following into the search field: your business name, city, state (ie: seo mechanic naples, fl).
3. Copy the long URL in your browser.



It should look something like this:

4. Visit bitly.com
5. Paste the long URL string into the link shortener and get: http://bit.ly/2r69sIr
6. Or create a bitly account and customize your URL: http://bit.ly/ReviewSEOMechanic
Now this will not send your customers straight to the review writing window but it overcomes the the issue of them finding your business on Google.
Once they get to this point they only have to hit the Write review button below your name.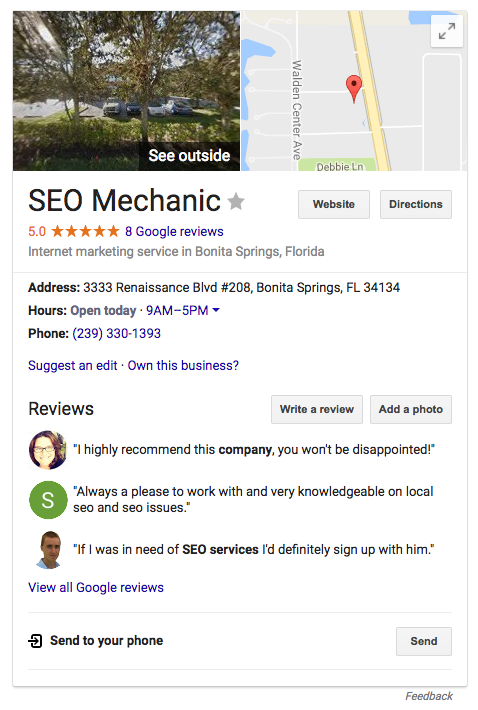 Test and Check
Nothing ever get done unless you put in on the calendar, so keep this page handy and remind yourself to check your profiles every six months.
It is not unusual for information on your business profile to change or for search engines to launch a major algorithm update.
Be aware of competitors manipulating your listings to promote their own business by inserting their phone number, website or business address into your profile.
Conclusion
The best way to get reviews is to offer and deliver a premium product or service. This will naturally make the process of getting reviews easier. And don't forget to make asking for reviews part of your companies normal interaction with clients.